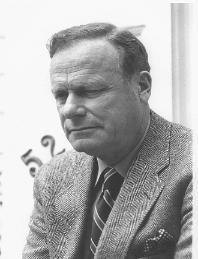 Entrepreneur: In 1956 at the age of thirty-four Eardly T. Petersen was out of work. With an unshaken belief in God that he had done the right thing in leaving a top sales position in a New York City based textile firm, he answered an ad for a salesman.
The product he was subsequently shown was, in 1956, totally unique. It was an all-steel vacuum cleaner that, using a patented cyclonic cone system (rather than a bag), developed and then maintained extremely high cleaning power. It also filtered the exhaust air to the tiny, microscopic size of three microns. This vacuum worked on the same principle that Nature employed in the awesome power of a tornado. It was called the Filter Queen.
Mr. Petersen became the Distributor of this machine for the State of New Jersey and part of Delaware. He opened three stores and hired a workforce to help market the product. As he went along, he added other vacuum lines to this flagship product – the Filter Queen – and began to build his business.
In 1963 Mr. Petersen decided to focus all his energy on one location, and he sold his stores in South Jersey and Pennsylvania. His Westfield, NJ store became the central element for a business strategy that, over the next three decades, added six divisions, a wholesale operation, and created a customer base of over 10,000.
Today: The Eardly T. Petersen Company today is an S-Corporation registered in the State of NJ. Mr. Eardly Petersen, active in the business until in his eighties, went home to be with the Lord Jesus in September 2011. His two sons, Keith and Douglas, now oversee the day-to-day Sales and Service operations. The current staff includes third-generation family members, and, as a debt-free company the business is firmly on course for the future.
Niche Marketing: The Eardly T. Petersen Company has always sought to position itself as a market leader in product lines and service. The company focus is on the highest-quality product lines at competitive prices, backed up with factory-trained and certified service technicians. Each division is always represented by at least one industry-leading manufacturer's product line — names such as Miele, Lindhaus, Sebo, Honda, Stihl, Toro, Echo, Walker, Ecoquest, Greentech, Everpure, Pullman/Holt/Boss, Nace, Advanced Vapor Technologies/LadyBug and others represent an integral part of the company's business. The company's desire is to form an equal partnership with the Manufacturer, themselves and the Customer.
Company Credo: "We strive to always satisfy you, the Customer. Our entire business effort is aimed at this goal. We seek to accomplish this by (1) offering unmatched product quality at competitive prices (2) providing fast, expert service utilizing the best available parts (largely OEM), and, (3) the key ingredient, an uneasy conscience if you are not satisfied. We want to do everything right. We sometimes make mistakes and we much appreciate it if you tell us. We want to make it right!"
An Introduction to Our Business